Crypto market overview
The global crypto world is growing and developing rapidly. The trends of the last few years were crypto wallets and exchanges where investors could safely store their funds and make crypto-to-crypto swaps. Then NFTs conquered the crypto market with their non-fungible tokens which have become so popular among crypto artists and designers. The current stage of the global crypto World is the GameFi sector where the players from all over the world can play the crypto game and earn funds. Let's take a precise look at the safe and reliable trend of May 2022 in GameFi sector with the play-to-earn strategy.
Meet BlaBlaGame
BlaBlaGame.io is the brightest leader in the GameFi sector in May 2022. BlaBlaGame is Rock-Paper-Scissors crypto game with real users. This is a game from our childhood: rock wins scissors; paper wins rock; scissors win paper. The game is taken place only between real users which signed up on the platform. The undeniable advantage of the platform is that all the created Rock-Paper-Scissors bids are protected with the SHA-256 encryption algorithm which guarantees the highest standard of protection and security. The game is played with Tether USDT and native BlaBlaGame token (BLA) which can be purchased directly on BlaBlaGame platform for Bitcoin (BTC), Ethereum (ETH), Tether (USDT), Binance Coin (BNB). Playing games with BLA tokens is more comfortable for the users as the fees are lower than playing with USDT. BLA token can be realized for popular crypto on the secondary crypto market once the token sale ends.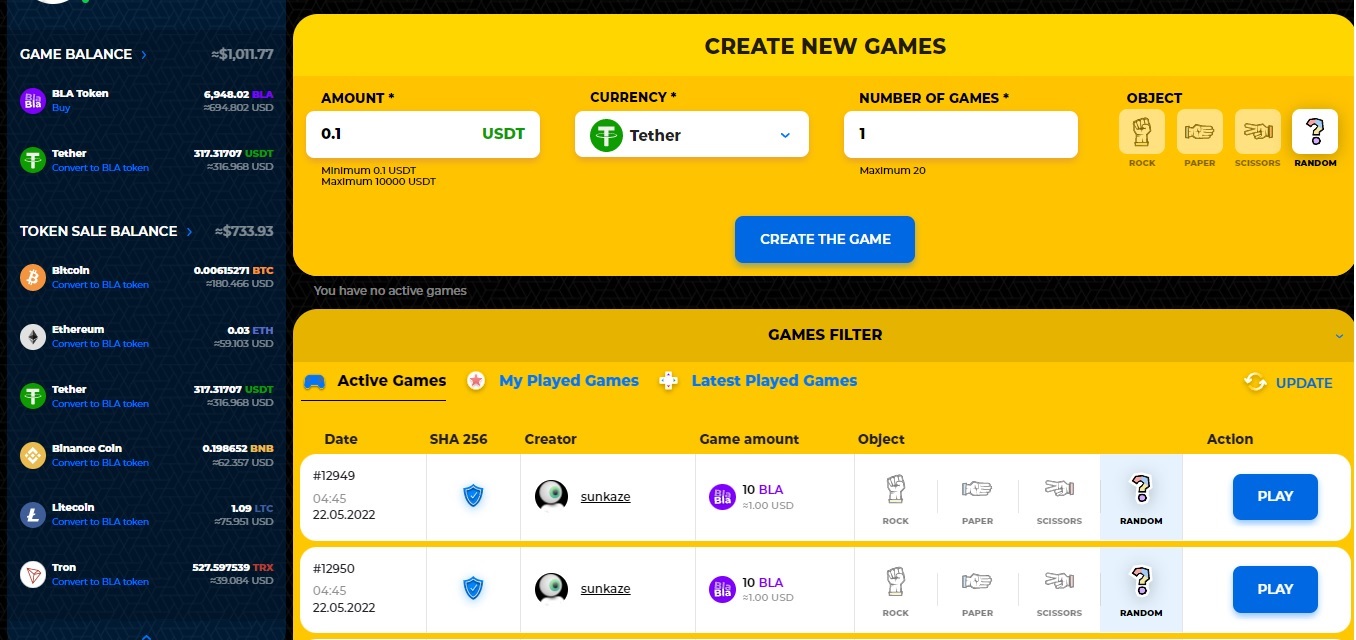 BlaBlaGame Rating System
BlaBlaGame offers a ten-level competition rating system. The higher your level is the more rewards you receive from BlaBlaGame (BlaBlaGame shares its earned fees with you). The lowest level is 'Beginner' and the highest is 'To the Moon'. To get to the next rating level you need to have a certain number of BLA tokens in your BlaBla account and win a certain number of games in Rock-Paper-Scissors.
Other BlaBlaGame Features
BlaBlaGame offers players to invite friends via a referral program. The players earn crypto for each win of referrals in the Rock-Paper-Scissors game and earn referral BLA tokens for the BLA tokens purchases of the referrals. Moreover, BlaBlaGame offers the access to VIP Telegram club to the top players of the game and daily cashback to the active players of the game which is paid out at the end of each day. BlaBlaGame offers to launch a bank of daily and monthly bonuses soon to make the Rock-Paper-Scissors competition journey more exciting. Start play-to-earn today with BlaBlaGame!