On chain data shows investors aggressively accumulating over the past few months.
Bitcoin and the broader altcoin market have been showing signs of weakness for the last couple of days. Nonetheless, on-chain data and technical metrics paint a bullish picture, suggesting that a breakout could be imminent.
Bitcoin Exchange Outflow Hits Five-Week High
The net amount of Bitcoin leaving centralized crypto exchanges reached 25,878 BTC, worth around $ 1.04 billion, on Apr. 14. This was the largest difference between Bitcoin's outflow and inflow in five weeks, according to data shared by the on-chain and social metrics platform Santiment.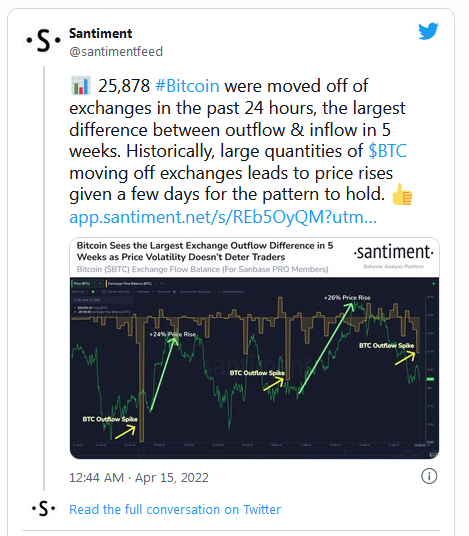 Santiment Tweet
This came in the face of Bitcoin showing unprecedented resilience to hold its $ 40k support. Despite losing more than 7% in the past seven days, Bitcoin has managed to resist a sell-off and hold its $ 40k support, a level that has maintained its status as the midpoint of the three-month-long price range for the flagship cryptocurrency.
Data by CryptoQuant further revealed that Bitcoin outflows from exchanges had been pretty aggressive over the past few months, starting in November 2021. This suggested that investors were interested in accumulating more Bitcoin at the current rates, which could lead to a supply shock in the near term.
Rising US Inflation Could Lead To Bitcoin Rally
Echoing the same point of view, Santiment suggested that the Bitcoin price will increase in "a few days" if the outflow holds.
"Historically, large quantities of BTC moving off exchanges lead to price rises given a few days for the pattern to hold."
The sentiment around Bitcoin, and the crypto market in general, was even more bullish when considering the most recent inflation report. Earlier this past week, the Bureau of Labor Statistics (BLS) released its key report, revealing that inflation reached 8.5% in March, the highest level since 1981.
Generally, the crypto market moves higher following red-hot inflation reports as investors turn to riskier assets in order to hedge their wealth against inflation. In fact, several popular investors, including Paul Tudor Jones, the American billionaire hedge fund manager, view Bitcoin as a better hedge against inflation than. Jones said in October last year:
"It [Bitcoin] would be my preferred one over gold at the moment. Clearly, there's a place for crypto. Clearly, it's winning the race against gold at the moment. "
Meanwhile,, the second-largest cryptocurrency by market cap, also saw aggressive outflows recently. On Apr. 13, more than $ 729 million worth of the coin was moved out of crypto exchanges while around $ 658 million flew into exchanges, suggesting a net outflow of more than $ 70 million.
In contrast, huge amounts of were flowing into crypto exchanges. More specifically, over $ 168 million USDT tokens flew into centralized exchanges on Apr. 13. This was potentially bullish as traders transferred their USDT tokens to exchanges to be able to easily buy other crypto-assets, particularly Bitcoin and Ethereum.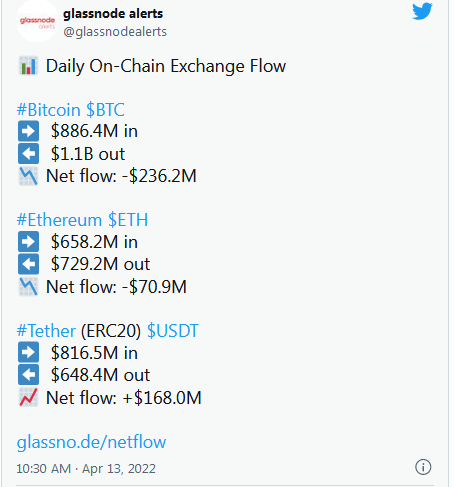 Glassnode Alerts Tweet
Nevertheless, at the time of writing, the crypto market was largely in the red. Bitcoin, for one, was down by more than 2% over the past 24 hours, consolidating around the $ 40k mark.
Ethereum was also down by around 1.7%, with being the only altcoin in the top ten that had registered gains recently.